We have an exceptional range of blinds in a variety of colours and textures to suit any decor and budget.
Our blinds are built with quality, variety and our customers in mind. Wanting to give New Zealand a better choice when choosing their window coverings, we decided to provide a wide range of blinds with various styles, colours and textures – all for a more than affordable price. Each home can have something unique with custom-made blinds from Blinds 4U.
Start browsing our various styles of blinds now to envisage how your home will look with brand-new roller blinds, timber blinds, vertical blinds or PVC blinds. The process is as easy as 1-2-3. One; measure using our straightforward guide. Two; Follow our simple order process and we'll manufacture them quickly. Three; DIY installation takes a matter of minutes – you don't need to be an expert.
This is the place to find out more about our different types and blinds and the fabrics on offer, the finer details of our product information and finally, our motor add-on for convenient remote control functionality of your blinds. 
ROLLER BLACKOUT BLINDS
Roller Blackout Blinds (sometimes referred to as Holland Blinds) have been around for many years but new fabrics available on the market mean that they're becoming more popular than ever. Roller blackout blinds can be combined with sunscreen blinds on the same bracket to satisfy your day and night requirements. Roller blinds are the best option of window covering for those who are looking for a minimalistic look.
We have an amazing collection of high quality fabrics that provide privacy and glare control or blocking out the light.
MECHANISM OF ROLLER BLINDS
Operation of both the Sunscreen Blinds and Roller Blackout Blinds work by the fabric rolling around a tube, the tube is turned either by a sidewinder unit with operating chain or a motor located within the tube.
WARRANTY
We have a 5 year guarantee on all components and fabrics.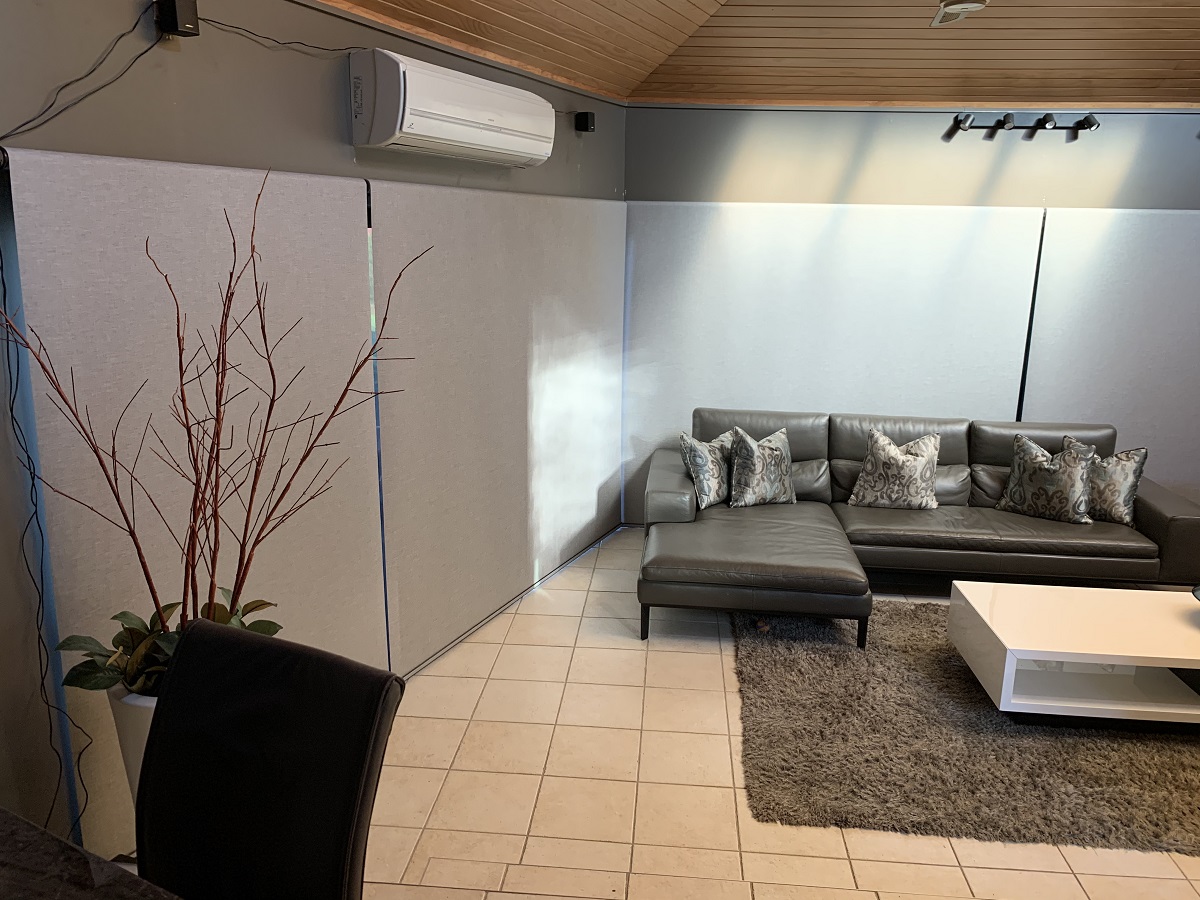 ROLLER SUNSCREEN BLINDS
New fabrics of sunscreen blinds now give a greater choice in controlling glare and heat into your home or office. Now you can have a blind down while still enjoying your view. This prevents the closed in feeling experienced when blackout blinds are used.
MECHANISM
Operation of both the Sunscreen blinds and Blackout Holland blinds work by the fabric rolling around a tube, the tube is turned either by a motor located within the tube or a sidewinder unit with operating chain, this is the more popular option as it gives greater control and ease of operation.
FABRICS
Composition is 30% Polyester and 70% PVC Coating. UV resistant with high quality light fast pigments.
Blocks 90% of the UV rays to keep your furniture from fading.
WARRANTY
All components and fabrics for sunscreen blinds come with a 5 year guarantee.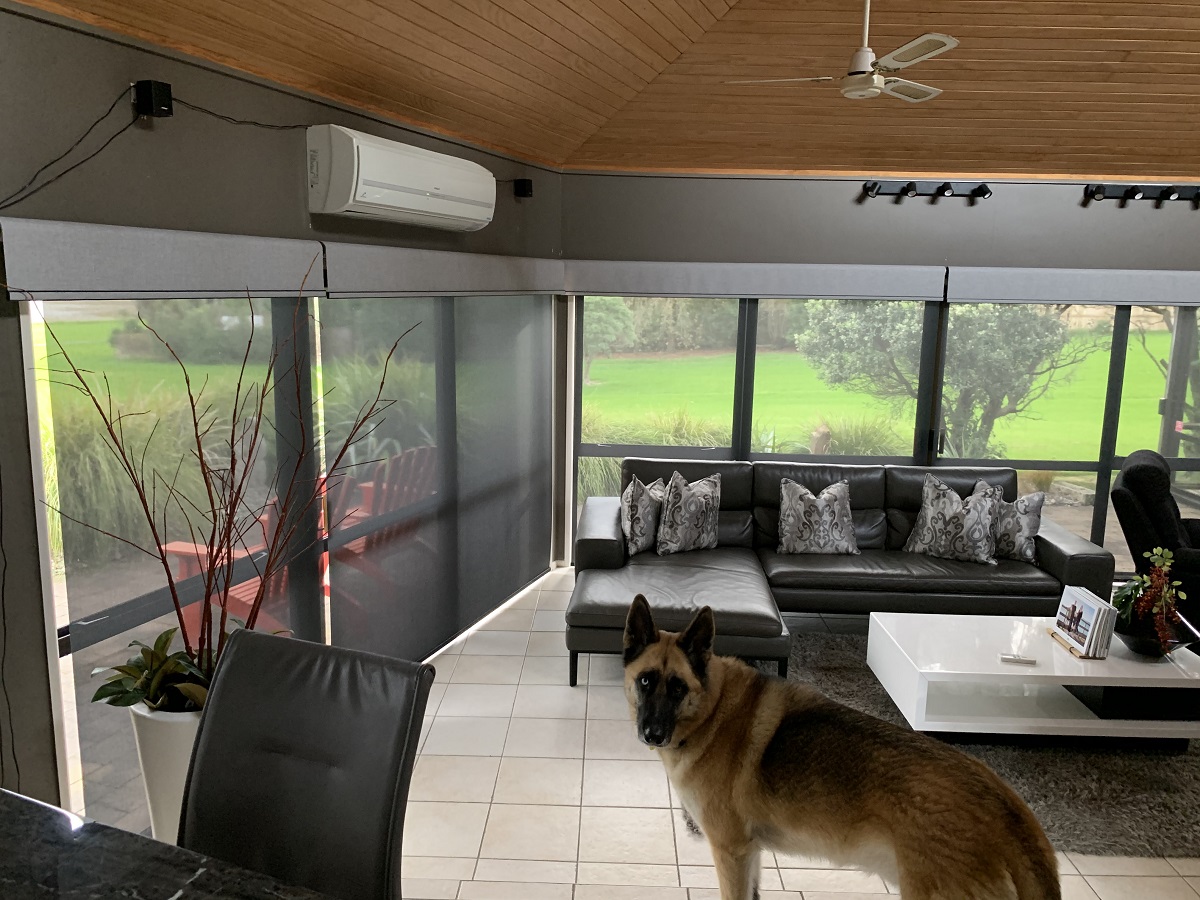 TIMBER BLINDS
Wooden blinds offer warmth and style to a home or office. Our wooden blinds are made from plantation cedars. These timbers are light and offer superior strength and resistance to bowing and twisting sometimes caused by the sun.
TIMBER BLINDS HEAD RAIL
Made from powder coated thick aluminium extrusion that is required to house our heavy duty components. The head rail gives maximum corrosion resistance.
COMPONENTS
Bearing brackets lift the blind when the lifting cord is pulled. Our bearing brackets run quietly and smoothly. They're designed to take the weight of timber blinds our swivel cord lock provides the best locking system to hold your blind up at any height.
CEDAR SLAT
We use 45 and 60mm cedar slat. This size gives the best look and has a much smaller stacking height than 25mm when the blind is pulled up.
All cedar blind slats are coated with a UV cured lacquer giving the most durable finish.
FASCIA
A 70mm wide cedar fascia is applied to the aluminium head rail. This hides all the head rail and componentry giving an uninterrupted timber look to the blinds. When returns are used all fascia joints a mitered.
WARRANTY
There is a 5 year guarantee on all components and workmanship on timber blinds. However the finish (lacquered or painted) is not covered by any guarantee for discoloration. This is because we cannot get any guarantee from our suppliers on the finish applied to the cedar. For details on our guarantee contact the office.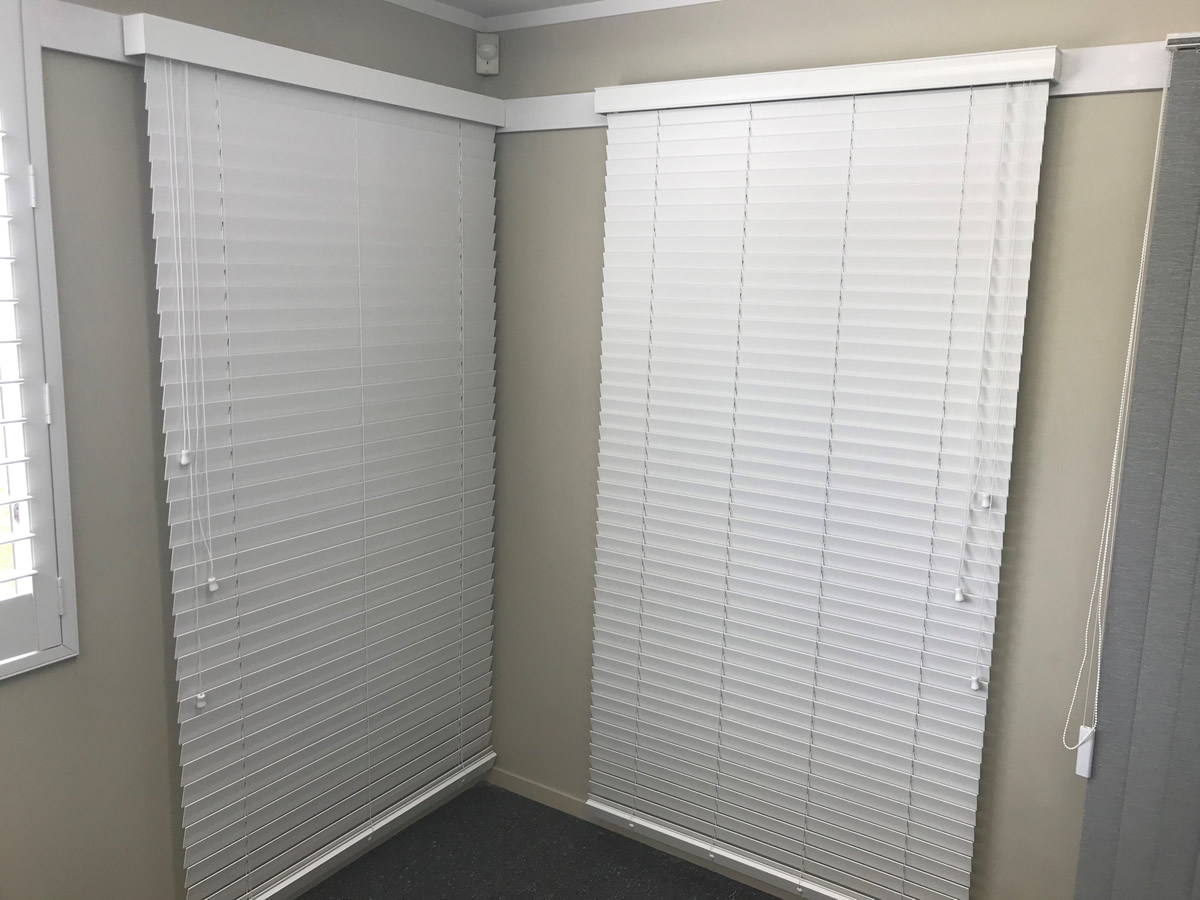 VERTICAL BLINDS
Vertical blinds represent a great choice when the ultimate control of light is required. The vertical hanging blind material can be turned up to 180 deg, giving greater control over direct sunlight while still allowing diffused light and view into the room. When fully shut the blockout fabric prevents any light penetrating through the fabric. The large colour choice makes for easy matching to any decor.
HEAD RAIL VERTICAL BLIND SYSTEM
Aluminium head rail of 1.2mm thickness to give extra support. Powder coated colour range. 9 stainless steel spacer sizes to choose from. Controlled by either by polyester cord or polyester wand with the fabric running on carriers with wheels for a smooth operation. These carriers are designed so that the fabric is self aligning. All components are UV resistant. Installation brackets are unobtrusive being hidden away from view by the design of the track.
THE FABRIC
All materials used consist of a 100% polyester cloth coated both side with an acrylic finish, this gives a total block out of the sun and a reduction of heat.
Fire ratings meet the following standards, AS1503-2 and 3. Colour fastness rating is 76-7 ISO. All materials are treated so as to allow for ease of cleaning, repels water, dirt and resists staining.
A wide range of colours are available to ensure the best match to your decor, the vertical system looks modern and clean. All materials are cut on a computer run cutter giving accurate drops each time ensuring the best fit.
Our swivel cord lock provides the best locking system to hold your blind up at any height.
WARRANTY
We have a 3 year guarantee on all components for our vertical blinds.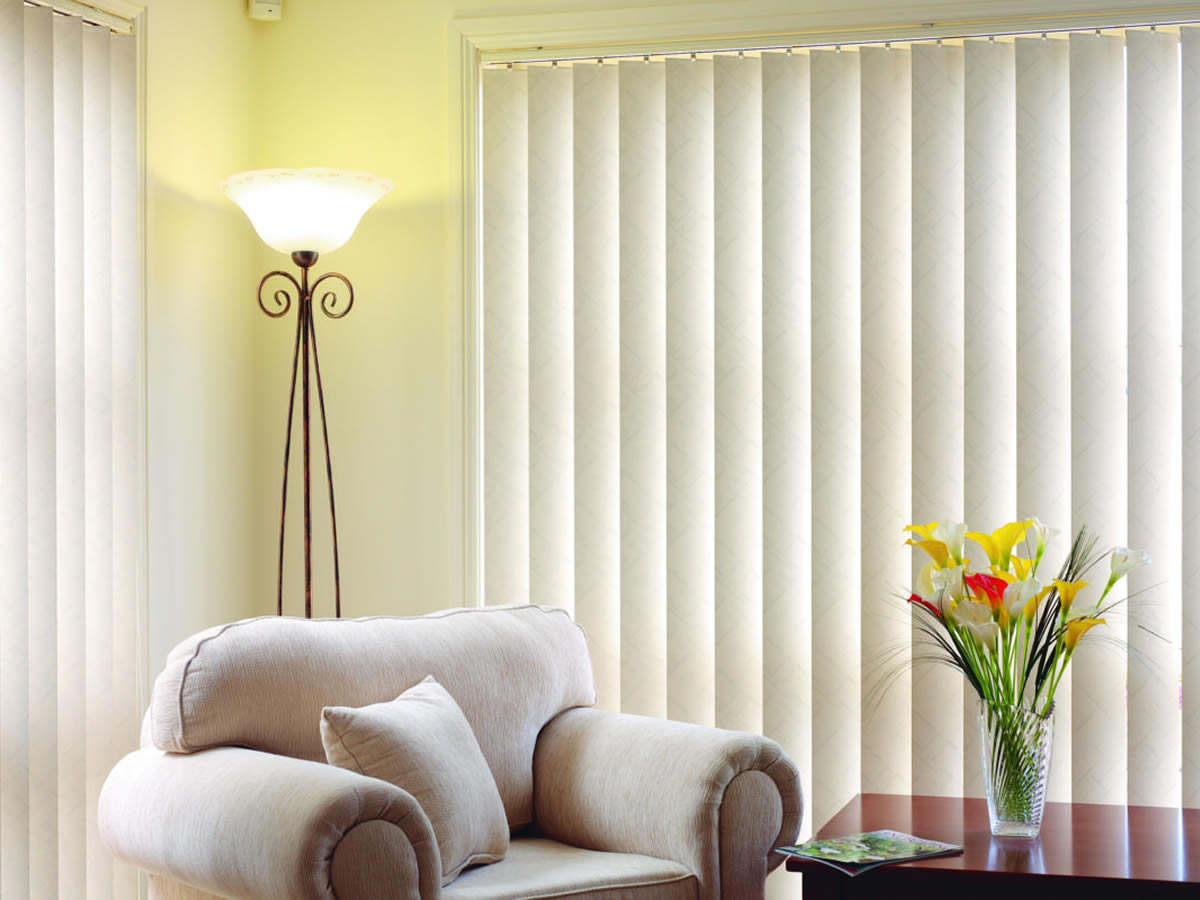 PVC FAUXWOOD 50MM BLINDS
We also have 50mm Venetian blinds available. 50mm are making a comeback in popularity due to the solid look and excellent closure.
Artwood blinds are an artificial timber look alike blind manufactured out of PVC fauxwood. Artwood blinds are ideal where a painted timber look is required but there is a limited budget. All the high quality components used in the timber blinds are used in the assembly of Artwood blinds.
WARRANTY
We have a 5 year guarantee on all components for our PVC Fauxwood blinds. However there is no guarantee against fading or discolouration as we cannot get a guarantee on this from our suppliers.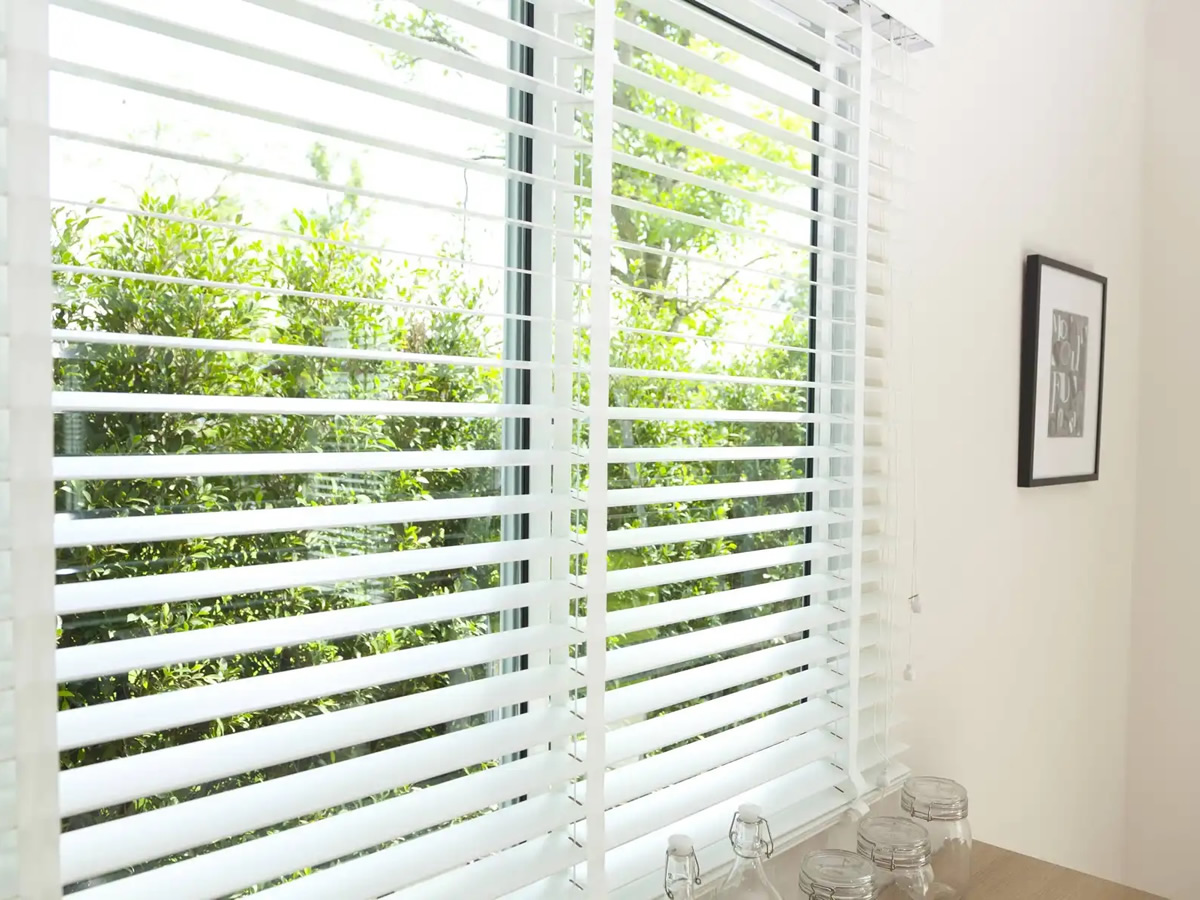 Vertical, Roller, Timber, Venetian Blinds Available Here
Blinds4U gives an unmatched 5 year warranty with any warranty issues being given priority. Buying online saves your hard earned cash, just check out our prices.
Buy Blinds Now
Easy Online Ordering
Follow Our Steps to Ordering and see how easy it is to Measure, Order and Install your own blinds!