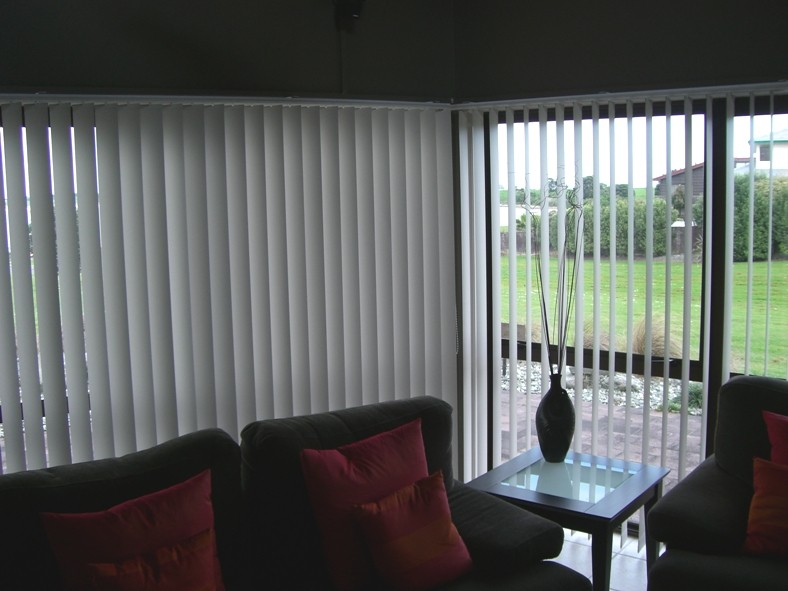 Vertical Blinds
Please enter in your width and drop to get a pricing for all our vertical blind options, we currently have three blades types, 89,100 and 127mm wide blades.
Please click the headings below for more details about vertical blinds.

Shipping dates: See shipping page

Fabric - Dawn
The fabric we use for vertical blinds is called "Dawn" this is from a local company called Uniline – it is the best basic fabric on the market. A few key points:
Uniline stands behind Dawn by offering an unsurpassed 10 Year Fabric Warranty!
The highest standard of quality for over a quarter of a century. The best value for your hard earned money.
Greenguard Gold Certification ensures that Dawn has a low level of chemical emissions which significantly improves the quality of the air.
The addition of Ultra-Fresh antimicrobial additives control the growth of unwanted microbes and guarantees continuous odour control and fabric protection against mould, mildew and stain causing bacteria.
Our Uniguard fabric protection system improves the durability of our fabrics by making them easier to maintain and clean.
Oeko-Tex accreditation ensures that there are no harmful substances used during the manufacturing process
Componentry
Our vertical blinds are all made from our local supplier "uniline"
The vertical headrail is a strong 25mm x 50mm thick aluminum extrusion.
The "Carriers" which are the parts inside the headrail that move the fabric are made from durable plastic and there are metal spacer links between. These are the best out there as many other space links are made of plastic which get brittle and break.
The louver hangers which are inside the fabric that attach the fabric to the headrail are made from a strong PVC but these are designed to be weaker than the componentry in the head rails, so if some one falls on the vertical blind and it breaks, 99% of the time its the louver in the fabric that will snap which is a simple slide it out, and slide in a new one – nice simple fix.
We have heavy durable weights in the bottom of the fabric so all the slats sit nice and straight. We recommend getting the chains and weights if you have any airflow through that area as it will help them sit better. Chainless do move around more in a breeze.